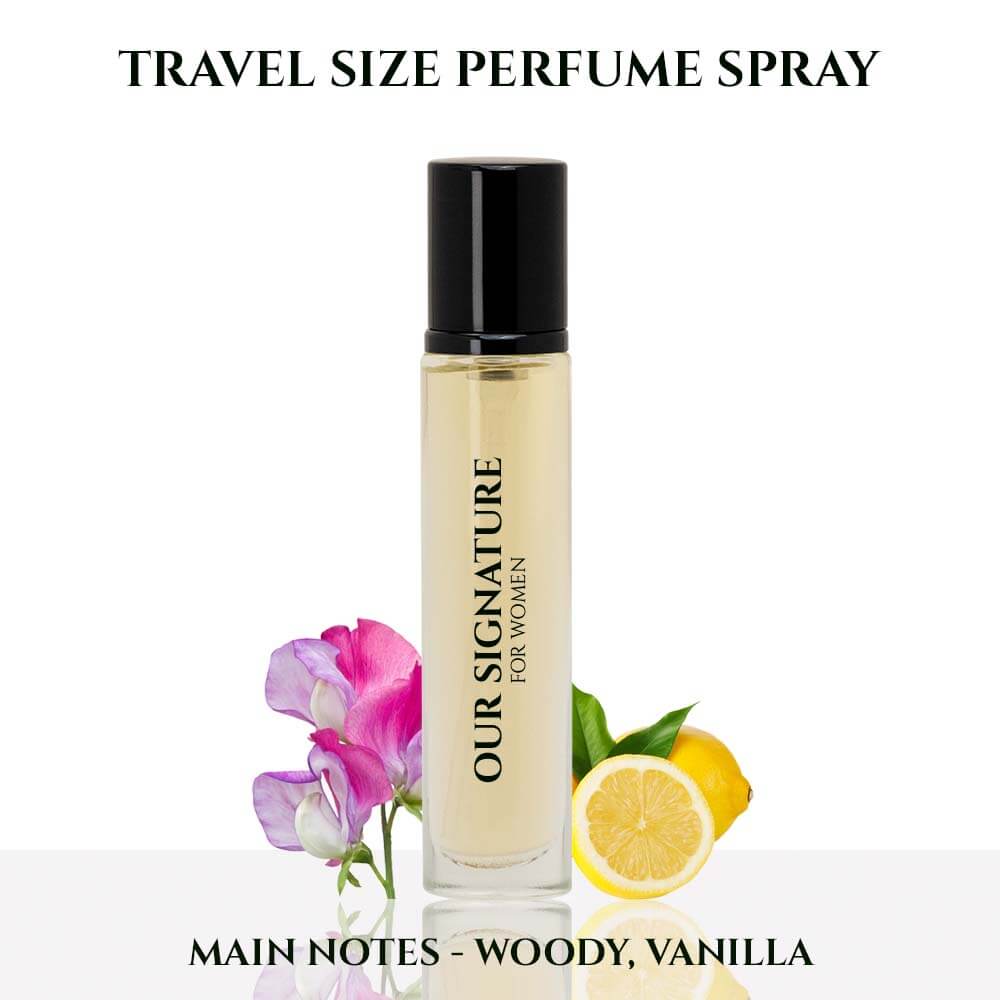 Our Signature Perfume For Women
Regular price
Sale price
Rs.1,740.00
/
Fast delivery all over Pakistan
Every woman deserves the best, so here is Our Signature For Women brought to you by Scents n Secrets. We take pride in delivering the best perfume for women that reflects your unique individuality. Our signature perfume is made with so much love and care, making it one of the most wanted women perfumes in Pakistan. The beautiful blend of floral Perfumes and citrus accords makes this fragrance a perfect choice for those who admire nature.
Our signature perfume comes in a sleek 50 ml bottle and has the ability to turn the heads toward you wherever you go. Each spray envelops the spirit of French style and sophistication, whether it is a casual date night or a formal business meeting our signature perfume is your ideal partner. Get yours now and be ready to steal the hearts of everyone with Scents n Secret's best perfume for women.
Get yourself in a world of energizing freshness, as our signature perfume's main accords transport you to a vibrant garden bursting with flowers in bloom and citrus fruits that have been sun-kissed. This scent is the ideal choice for lovers of the abundant beauty of nature because of the smooth integration of floral and citrus Perfumes. It is like taking an easy walk through a beautiful orchard, where the warmth of the sun touches your skin and the gentle breeze conveys the most lovely aromas.
The process of creating perfumes is a well-guarded secret, and our signature perfume is no exception. It's a work of devotion and emotion, with each note carefully selected to create an arrangement of fragrances that linger subtly on your skin all day. The end result is a fragrance that not only smells good but also expresses your individuality and sense of style.
If you are looking for premium fragrances with attractive pricing, Scents n Secrets is your one-stop shop. We believe that quality and affordability should come hand in hand that's why we offer competitive pricing without compromising on the quality of the product. Our signature perfume is the proof! Shop without hesitation and explore our broad variety of fragrances that cater to your desires.
Genre: French
Eau de Parfum (EDP) - 50ml
Main Accord: Floral, Citrus
Notes
Top Notes: Lemon, Grapefruit, Orange, Bergamot, Sweet Pea
Middle Notes: Gardenia, Green Notes, Peach, Passionfruit, Quince, Freesia, Geranium
Base Notes: Musk, Leather, Violet, Rose, Patchouli, Damask Rose
Performance
Unboxing Video
Do you deliver outside Pakistan?
No we don't deliver outside Pakistan as of now!

What are the Delivery charges?
The delivery charges are Rs 200, and on orders above Rs 3,600 delivery is free.

How do I track my order?
You can track your order on Trax and Post-ex track-order with the tracking id you receive in the order shipping confirmation message you receive.

When will my order be delivered?
Delivery Timings:
For Karachi - 2-3 working days.
Outside Karachi - 3-5 working days.