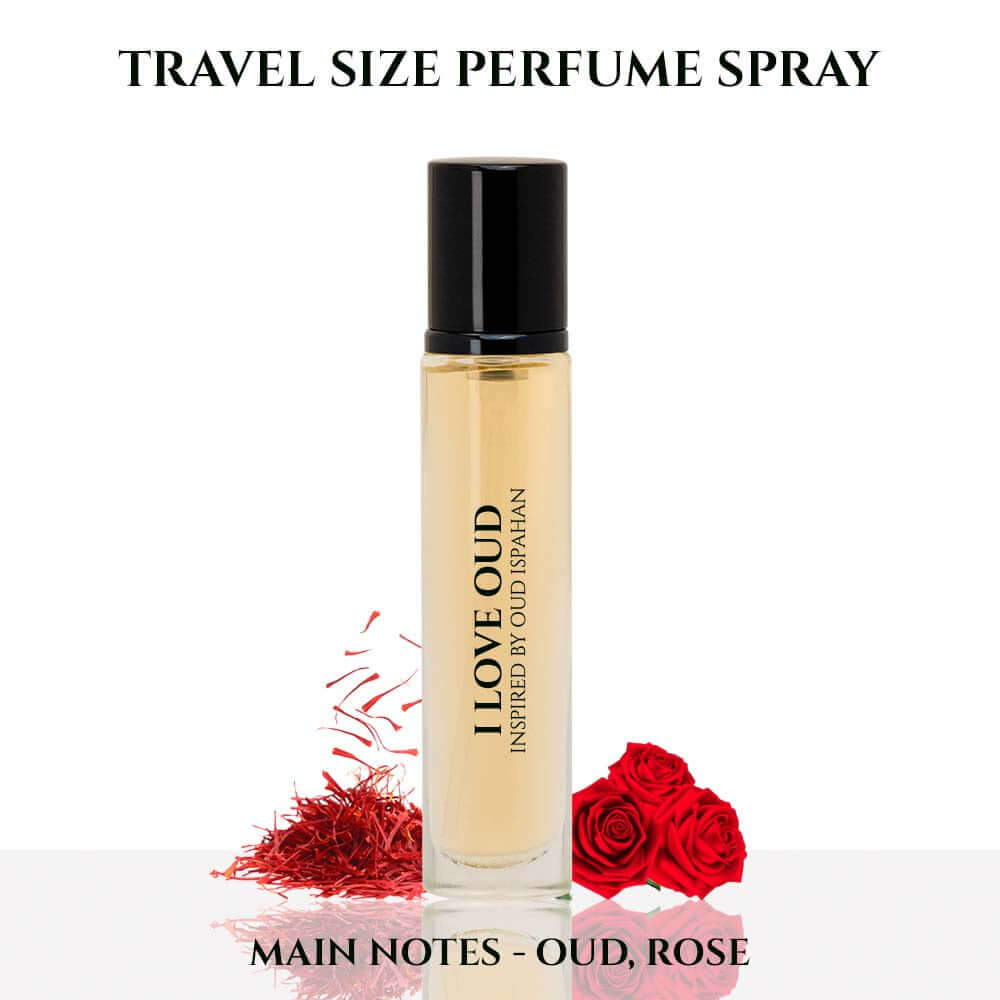 I Love Oud | Inspired By Oud Ispahan
Regular price
Sale price
Rs.1,890.00
/
Fast delivery all over Pakistan
At Scents and Secrets, we Offer "I Love Oud", a mesmerizing scent that is a tribute to the fascinating charm of Oud Ispahan. Inspired by the lavish beauty of the Middle East, this Arabic-inspired scent includes an equilibrium of oud, rose, and woody notes, resulting in memorable fragrant experiences. Every bottle of I Love Oud is a significant 50ml size, assuring you have plenty to enjoy this magnificent fragrance. 
Oud Ispahan is a famous scent by Christian Dior, a premium cologne brand. It is part of the La Collection Privée, a collection of exclusive and elite fragrances. Oud Ispahan is an Asian perfume with an intense note of oud, commonly known as agarwood. It blends the deep, woody perfume of oud with other components to produce a complex and appealing aroma. The scent is frequently characterized as warm, sensuous, and elite. The smell draws its name from the Iranian city of Isfahan, which holds rich historical and cultural importance. Isfahan is famed for its incredible architecture, wonderful gardens, and ancient traditions, and it has served as an inspiration to artists and perfume makers alike.
I Love Oud encapsulates the spirit of the exotic attraction of the legendary scent Oud Ispahan. This Oud perfume incorporates a harmonic mixture of oud, rose, and woody notes to produce an aromatic journey that is utterly seductive. It will take you to a world of classic beauty and luxury right away it strikes your skin.
The cozy and woody perfume of labdanum enchants the top notes of I Love Oud wrapping you in a warm hug. The heart notes of patchouli, rose, and saffron emerge as the fragrance matures. These delightful notes combine, producing feelings of love and romance while paying respect to the Middle East's rich floral traditions.
The earthy flavor of sandalwood, agarwood, and cedar enhances the aroma of the base notes. These essential woods provide a solid base for the fragrance, offering a compelling depth. Discover the charm of "I Love Oud" with Scents and Secrets, making the magnificent essence of the famous Oud perfume, available at an economical Oud Ispahan price in Pakistan.
Inspired By: Oud Ispahan

Genre: Arabic
Eau de Parfum (EDP) - 50ml
Main Accord: Oud, Rose, Woody
Notes
Top Notes: Labdanum
Middle Notes: Patchouli, Rose, Saffron
Base Notes: Sandalwood, Agarwood, Cedar
Performance
Unboxing Video
Do you deliver outside Pakistan?
No we don't deliver outside Pakistan as of now!

What are the Delivery charges?
The delivery charges are Rs 200, and on orders above Rs 3,600 delivery is free.

How do I track my order?
You can track your order on Trax and Post-ex track-order with the tracking id you receive in the order shipping confirmation message you receive.

When will my order be delivered?
Delivery Timings:
For Karachi - 2-3 working days.
Outside Karachi - 3-5 working days.