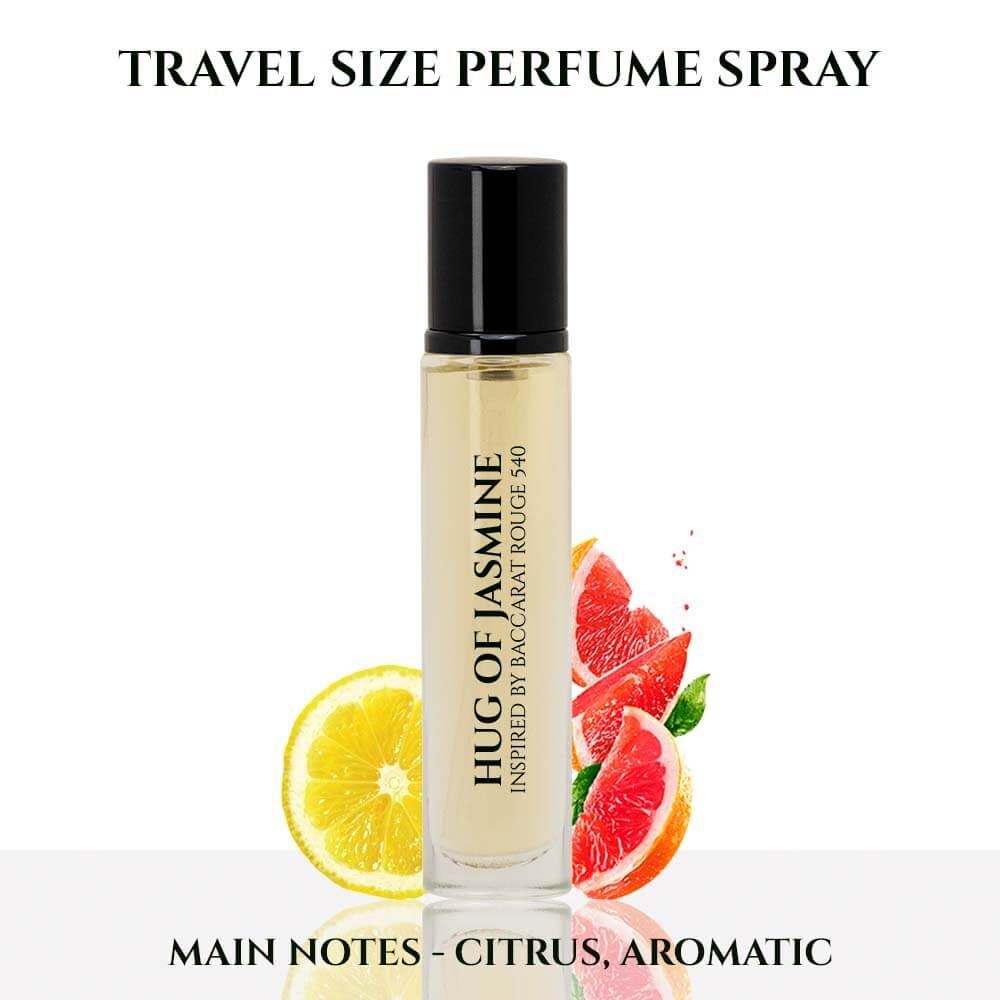 Hug of Jasmine | Inspired by Baccarat Rouge 540
Regular price
Rs.2,390.00
Sale price
Rs.2,150.00
Save 10%
/
Fast delivery all over Pakistan
Hug of Jasmine | Inspired by Baccarat Rouge 540, invites you to wrap yourself in the hug of pure beauty. You get caught in a seductive air of elegance and refinement when you inhale this wonderful woody perfume, crafted to reflect the spirit of the renowned Maison Francis Kurkdjian. The rich and highly desired perfume Baccarat Rouge 540 by Maison Francis Kurkdjian is famous for its incredible note blending and connection to the renowned crystal house, Baccarat. This scent was launched by famous perfumer Francis Kurkdjian, and since its debut, it has developed a loyal following of believers
Our Hug of Jasmine, which drew inspiration from the iconic smell of Baccarat Rouge 540, carries you away on a fragrant adventure full of citric, aromatic perfumes, and woody touches. This French-inspired creation provides a great blend of intensity and longevity with its 50-ml Eau de Parfum (EDP) concentration, ensuring that you stay wrapped in the fragrance's appeal throughout the day.
Delight yourself with vibrant citrus and blood-orange top notes. They stimulate your senses and set an atmosphere for the blooming olfactory masterpiece by infusing the scent with an awakening zest, like a ray of sunlight.
creating a mesmerizing perfume that seduces the senses with a captivating combination of saffron, sage, and lavender that rises from the fragrance's heart as it expands. 
Last but not least, this fragrance's base notes of oak, oak moss, and woody perfumes accords will wrap around you in a cozy hug. These notes create a lasting impression, leaving a fascinating trail as you make your mark.
At Scents and Secrets, we consider luxury to be something everybody can afford. Hug of Jasmine | Inspired by Baccarat Rouge 540 price in Pakistan is available from us at an affordable and pocket friendly pricing enabling you to access these wonderful fragrances at reasonable prices and experience the most incredible smells without sacrificing quality. Place your order for a bottle immediately to enjoy the appealing combination of citrus perfumes, aromatic, and woody elements. Count on Scents and Secrets to deliver an unparalleled level of quality in each and every perfume bottle we make.
Inspired By: Baccarat Rouge 540 Maison Francis Kurkdjian
Genre: French
Eau de Parfum (EDP) - 50ml
Main Accord: Citrus, Aromatic, Woody
Notes
Top Notes: Citruses, Blood Orange
Middle Notes: Saffron, Sage, Lavender
Base Notes: Oak, Oak Moss, Woody Notes
Performance
Unboxing Video
Do you deliver outside Pakistan?
No we don't deliver outside Pakistan as of now!

What are the Delivery charges?
The delivery charges are Rs 200, and on orders above Rs 3,600 delivery is free.

How do I track my order?
You can track your order on Trax and Post-ex track-order with the tracking id you receive in the order shipping confirmation message you receive.

When will my order be delivered?
Delivery Timings:
For Karachi - 2-3 working days.
Outside Karachi - 3-5 working days.