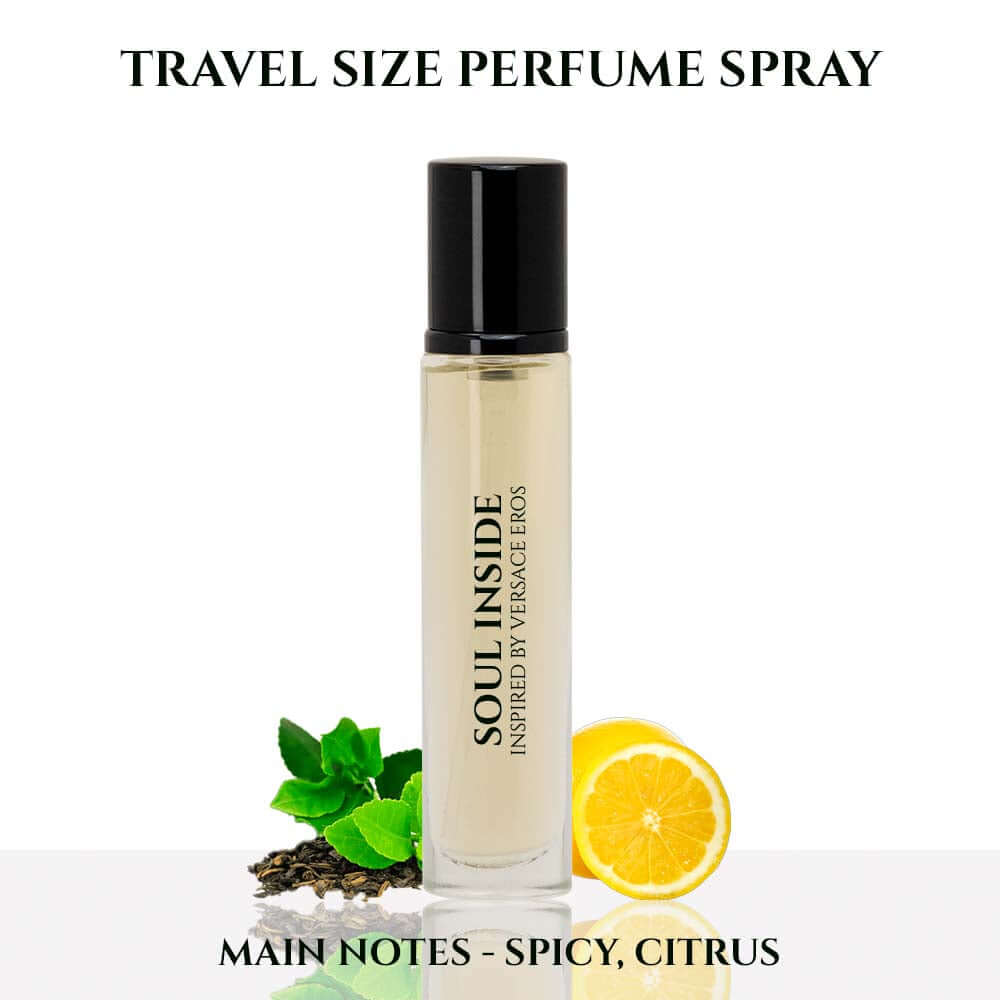 Soul Inside | Inspired By Versace Eros
Regular price
Sale price
Rs.1,990.00
/
Fast delivery all over Pakistan
Presenting Scents n Secrets' Soul Inside, inspired by Versace Eros unveils the magnificence of aromatic perfumes elegance. Experience the irresistible appeal of the well-known Versace Eros with our captivating invention, Soul Inside. This fragrant masterpiece, which was lovingly and passionately created, perfectly expresses the strong boldness and refined elegance that characterize Versace Eros perfume. The story of "Soul Inside" unfolds through a captivating fusion of aromatic and green accords, creating a strong but calming aromatic image. It's a statement of your inner strength rather than merely a scent. Get the best quality with each and every use. Soul Inside is offered in a classy 50ml Eau de Parfum, a volume meant to cling to your skin and wrap you in a compelling atmosphere all day.
The prestigious men's scent Versace Eros was introduced in 2012 by the Italian luxury fashion company Versace. It was made as a tribute to Eros, the son of Aphrodite and the Greek god of love. This scent aims to express the spirit of love, desire, and attraction. It represents the idea of passionate and seductive masculinity.
Upgrade your perfume game with Soul Inside, an exceptional creation that pays respect to the classic Versace Eros perfume while creating its own story of appeal and refinement. Give your soul a chance to sparkle with each spray by losing yourself in a world of olfactory grandeur.
Let the vibrant lemon, the refreshing green apple, and the zingy freshness of the mint awaken your senses. The top notes prepare the way for a memorable adventure.
Tonka bean, geranium, ambroxan, and a symphony of heart notes take center stage, wrapping you in a cozy embrace that is both seductive and refined.
Discover the luxurious charm of Madagascar vanilla, Virginian cedar, oakmoss, and vetiver as the perfume develops. These base notes leave a bright and everlasting impact.
transform your personality with the fragrant elegance of Soul Inside. Are you concerned about the Versace Eros price in Pakistan? Scents n Secrets offers you an exquisite substitute that captures the spirit of the classic and enables you to indulge in luxury without compromise. Experience it now!
Inspired By: Versace Eros
Genre: French
Eau de Parfum (EDP) - 50ml
Main Accord: Aromatic, Green
Notes
Top Notes: Mint, Green Apple, Lemon
Middle Notes: Tonka Bean, Geranium, Ambroxan
Base Notes: Madagascar Vanila, Virginian Cedar, Oakmoss, Vetiver
Performance


Unboxing 
Do you deliver outside Pakistan?
No we don't deliver outside Pakistan as of now!

What are the Delivery charges?
The delivery charges are Rs 200, and on orders above Rs 3,600 delivery is free.

How do I track my order?
You can track your order on Trax and Post-ex track-order with the tracking id you receive in the order shipping confirmation message you receive.

When will my order be delivered?
Delivery Timings:
For Karachi - 2-3 working days.
Outside Karachi - 3-5 working days.