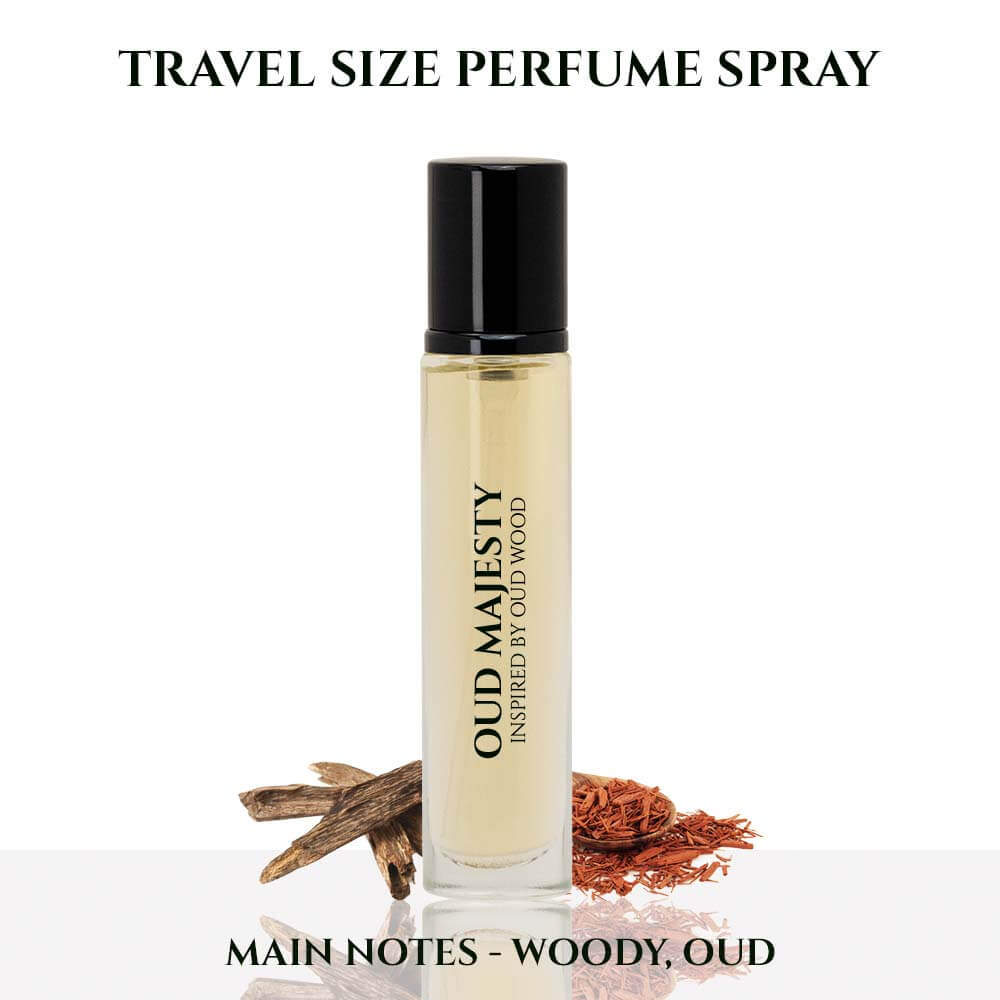 Oud Majesty | Inspired By Oud Wood
Regular price
Sale price
Rs.2,090.00
/
Fast delivery all over Pakistan
Oud Majesty, a beautiful fragrance driven by the attractive odor of Oud Wood, is easily available at Scents and Secrets. This French-inspired Eau de Parfum (EDP) is a harmonic melody of balsamic and woody perfume notes that will involve you in an atmosphere of sophistication and appeal. Oud Majesty, available in a 50ml bottle, exudes elegance and refinement.
Indulge in the glorious world of Oud Wood, which takes the stage in this extraordinary perfume. The main ingredient of this scent is Oud Wood, also known as Agarwood, which emits a characteristic of woody perfume that is both warm and appealing. 
The fragrance of Oud Majesty launches with a seductive combination of Sandalwood, Agarwood, and Pepper. The top notes merge to form a captivating opening, effortlessly carrying you to a world of luxury. The heart notes emerge as the fragrance unfolds, showing Cardamom, Brazilian Rosewood, and Vetiver. These notes offer a hint of spice and earthiness, resulting in a diverse experience that is both energizing and soothing.
The base notes of Amber, Tonka Bean, and Vanilla contribute to the smooth and velvety finish of this Oud perfume—the combination of these exquisite ingredients results in a perfume that demands recognition and appreciation.
Oud Majesty is brought to you by Scents and Secrets, a brand known for its dedication to quality and luxury. Delight yourself in the art of great perfumery with this remarkable composition, skillfully made to engage the senses and leave an imprint that lasts. Say yes to the seduction of Oud Wood and allow our Oud perfume to take you to a sphere of elegance and refinement.
You know What's the best part? We present you this fragrant bliss at an amazingly affordable Oud wood price in Pakistan. Satisfy your sense of smell, dear fragrance devotee, and take advantage of this great chance to enjoy your favorite scents without breaking the budget! Make sure to put off the appeal for a short time. Get your bottle of Oud Majesty now and embark on a smell and splendor adventure like no other!
Inspired By: Oud Wood
Genre: French
Eau de Parfum (EDP) - 50ml
Main Accord: Woody, Oud, Balsamic
Notes
Top Notes: Sandalwood, Agarwood, Pepper
Middle Notes: Cardamom, Brazilian Rosewood, Vetiver
Base Notes: Amber, Tonka Bean, Vanilla
Performance
Unboxing Video
Do you deliver outside Pakistan?
No we don't deliver outside Pakistan as of now!

What are the Delivery charges?
The delivery charges are Rs 200, and on orders above Rs 3,600 delivery is free.

How do I track my order?
You can track your order on Trax and Post-ex track-order with the tracking id you receive in the order shipping confirmation message you receive.

When will my order be delivered?
Delivery Timings:
For Karachi - 2-3 working days.
Outside Karachi - 3-5 working days.