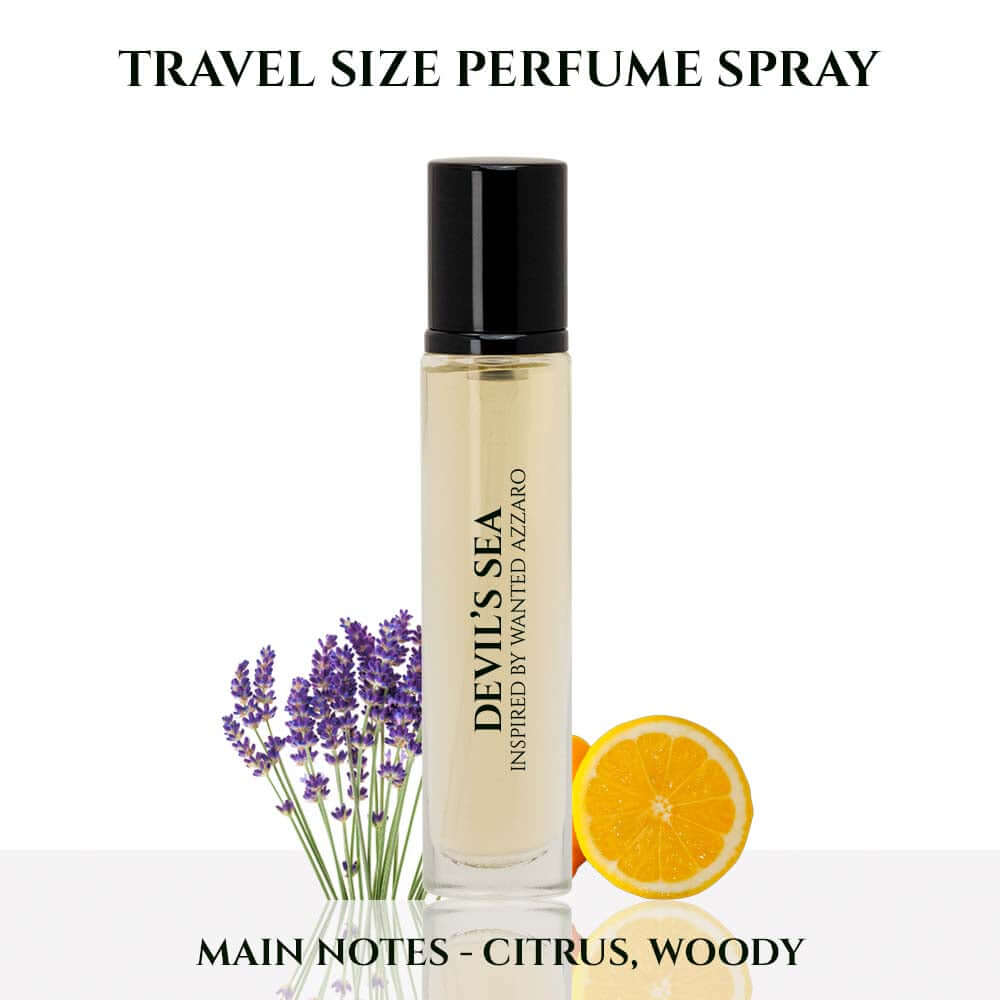 Devil's Sea | Inspired By Azzaro Wanted
Regular price
Rs.1,990.00
Sale price
Rs.1,790.00
Save 10%
/
Fast delivery all over Pakistan
Unlock the irresistible power of Devil's Sea by Scents and Secrets, a remarkable scent inspired by the famous Azzaro Wanted. Experience the fascination of this flawlessly made French classic, now offered at an unbeatable price in Pakistan. With Scents and Secrets, explore a world filled with energizing scents. The 50ml bottle of this Eau de Parfum (EDP) guarantees you have enough of this seductive perfume to grab every moment. 
The well-known men's perfume Azzaro Wanted is from the French fashion house Azzaro. Owing to its solid and seductive aroma, it soon became popular after its introduction in 2016. The fragrance was developed by perfumer Fabrice Pellegrin and is known for its audacious and captivating charm. The Azzaro Wanted is categorized as a woody spicy perfumes. It has a specific set of tones that combine to provide a hypnotic and powerful vibe.
Devil's Sea, a citrus, aromatic, and spicy perfume is a statement of confidence, desire, and a lot more than mere scent. Embrace the strong aura it emits to strengthen your presence everywhere you go. This exceptional fragrance, which took inspiration from the classic Azzaro Wanted, captures the spirit of ambition and grace. Every spray is a call to be bold, to grab what you want, and to make a lasting impact.
Let the journey begin with the energetic top notes of Lemon, Mint, Lavender, and Ginger. As warm and spicy ginger sets up the stage for an amazing encounter, feel the tangy explosion of citrus perfumes blending with the freshness of fragrant mint.
The heart notes of Apple, Juniper, Guatemalan Cardamom, and Geranium will fascinate you as the scent develops. With this seductive combination, you'll be taken on an aromatic perfumes journey you won't want to finish, one that tells a story of refinement and charm.
The Base Notes of Tonka Bean, Amberwood, and Haitian Vetiver finally come alive as the perfume settles. Embrace these excellent ingredients' deep, sensuous richness, leaving a compelling trail everywhere.
Indulge yourself in Devil's Sea by Scents and Secrets to capture the audacious charm of Azzaro Wanted perfume – now available at an incredible price in Pakistan! With every sensuous sniff, you'll feel bold, self-assured, and unforgettable.
Inspired By: Azzaro Wanted 
Genre: French
Eau de Parfum (EDP) - 50ml
Main Accord: Citrus, Aromatic, Warm Spicy
Notes

Top Notes: Lemon, Mint, Lavender, Ginger.
Middle Notes: Apple, Juniper, Guatemalan Cardamom, Geranium.
Base Notes: Tonka Bean, Amberwood, Haitian Vetiver.
Performance
Unboxing Video
Do you deliver outside Pakistan?
No we don't deliver outside Pakistan as of now!

What are the Delivery charges?
The delivery charges are Rs 200, and on orders above Rs 3,600 delivery is free.

How do I track my order?
You can track your order on Trax and Post-ex track-order with the tracking id you receive in the order shipping confirmation message you receive.

When will my order be delivered?
Delivery Timings:
For Karachi - 2-3 working days.
Outside Karachi - 3-5 working days.