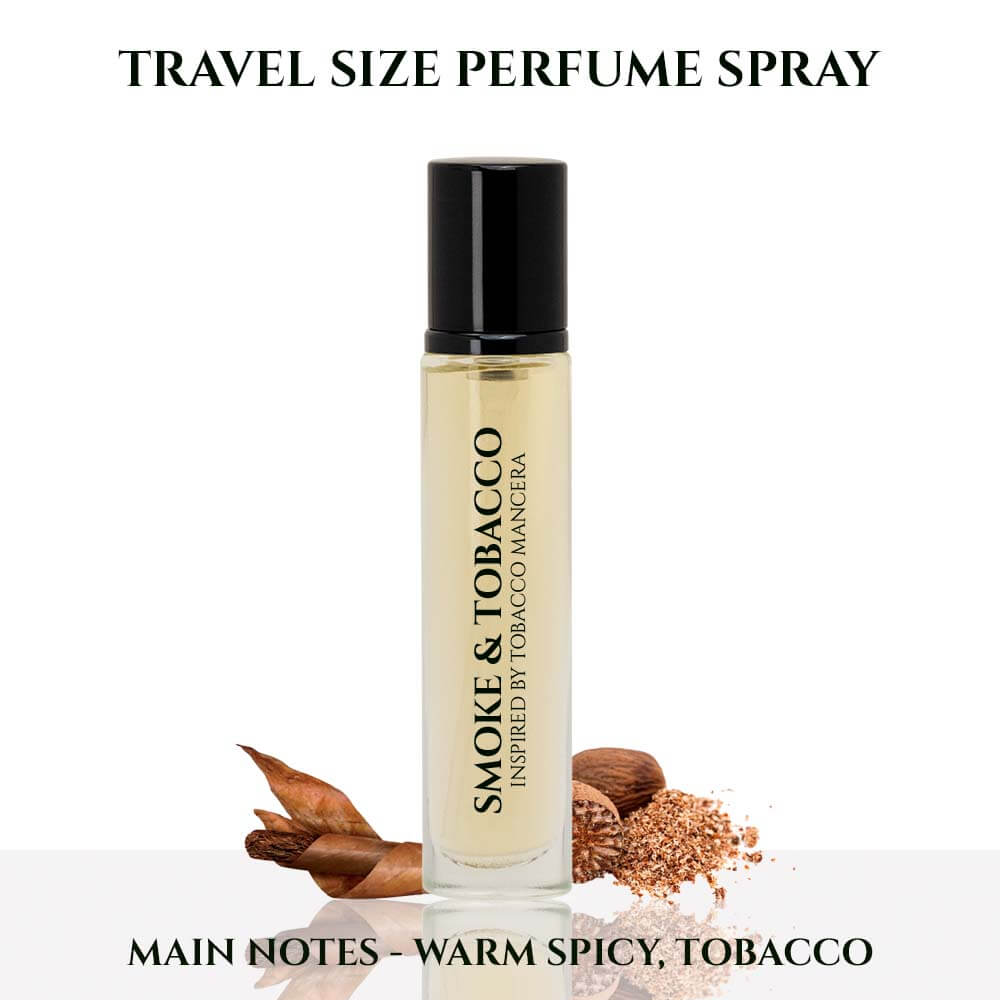 Smoke & Tobacco | Inspired By Mancera Red Tobacco
Regular price
Sale price
Rs.2,090.00
/
Fast delivery all over Pakistan
Featuring Smoke & Tobacco | Inspired By Mancera Red Tobacco, a sensual fragrance that carries you to the compelling world of French perfumes. Every detail of this magnificent Eau de Parfum (EDP) in a 50ml bottle is crafted to make your presence known wherever you go. Scents and Secrets' Smoke & Tobacco, which has taken its inspiration from the renowned Mancera Red Tobacco, radiates sophistication and elegance. Experience this woody masterpiece's warm, spicy touch as it is blended expertly.
The tempting top notes of cinnamon, agarwood (oud), saffron, incense, nutmeg, green apple, and white pear will awaken your senses. These irresistible ingredients provide the ideal environment for an unforgettable moment that radiates confidence and charm.
Patchouli and jasmine, the perfume's rich and powerful heart notes, become more apparent as the smell expands. The flawless blending of these harmonious notes results in an irresistible charm that remains in the air.
When the base notes of tobacco, Madagascar vanilla, amber, sandalwood, guaiac wood, white musk, and Haitian vetiver finally steal the spotlight. They leave a seductive trail that is impossible for anyone to ignore. Experience the overwhelming attraction of woody perfume skillfully balanced by hints of spice.
Mancera Red Tobacco is a Woody scent for both genders. When Red Tobacco was introduced in 2017, it immediately caught the attention of individuals who enjoy the seductive charm of woody and spicy perfume. It is the ideal option for special events or for individuals who want to make a statement with their fragrance. Since it has a cologne that inspires a sense of luxury and self-confidence.
Smoke & Tobacco | Inspired By Mancera Red Tobacco is a gratitude to the art of perfumery with its unique fragrance and outstanding craftsmanship. With a captivatingly different representation, our perfume retains the true essence of the original Mancera perfume. This perfume from Scents and Secrets is the ideal option if you want a smell that exudes sophistication and appeal, are looking for a woody or spicy scent, or just a scent that is seductive and appealing.
Inspired By: Mancera Red Tobacco
Genre: French
Eau de Parfum (EDP) - 50ml
Main Accord: Warm spicy, Tobacco, Woody
Notes
Top Notes: Cinnamon, Agarwood (Oud), Saffron, Incense, Nutmeg, Green Apple, White Pear

Middle Notes: Patchouli, Jasmine
Base Notes: Tobacco, Madagascar Vanilla, Amber, Sandalwood, Guaiac Wood, White Musk, Haitian Vetiver
Performance


Unboxing
Do you deliver outside Pakistan?
No we don't deliver outside Pakistan as of now!

What are the Delivery charges?
The delivery charges are Rs 200, and on orders above Rs 3,600 delivery is free.

How do I track my order?
You can track your order on Trax and Post-ex track-order with the tracking id you receive in the order shipping confirmation message you receive.

When will my order be delivered?
Delivery Timings:
For Karachi - 2-3 working days.
Outside Karachi - 3-5 working days.