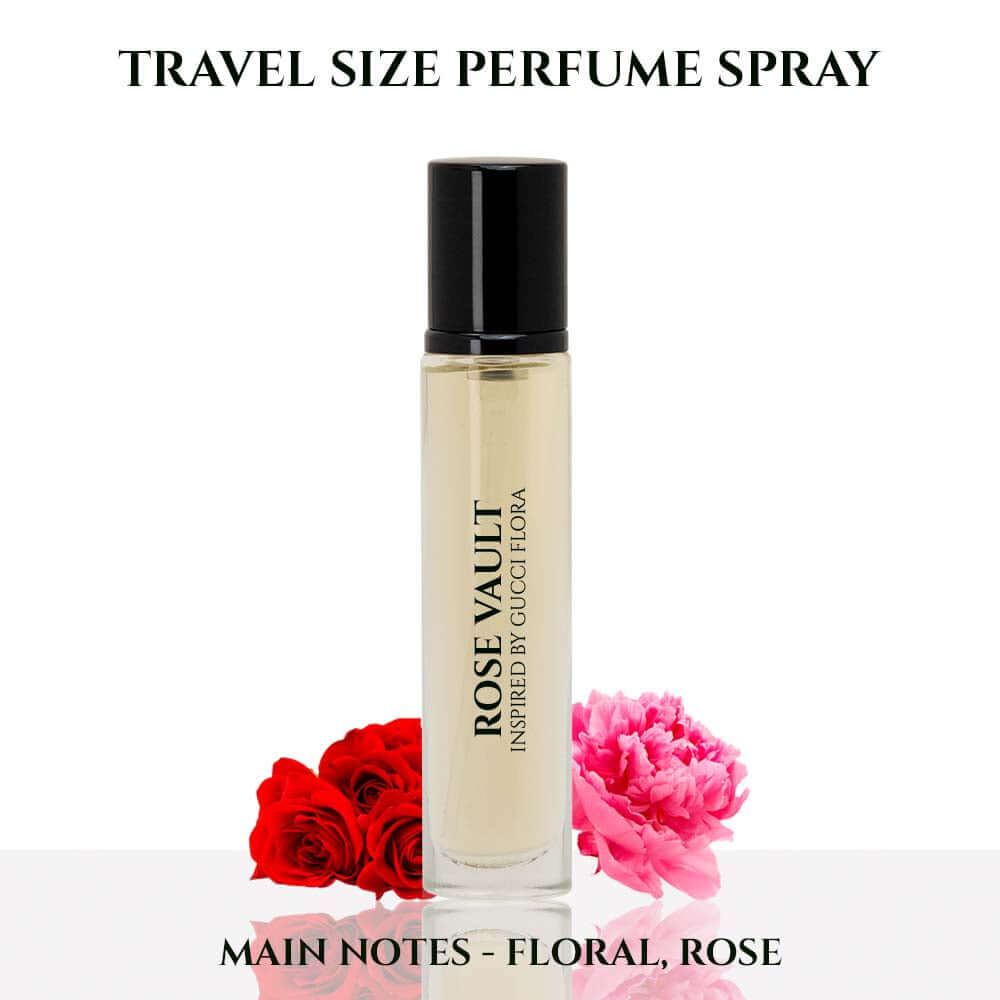 Rose Vault | Inspired By Gucci Flora
Regular price
Sale price
Rs.1,790.00
/
Fast delivery all over Pakistan
Discover the beautiful world of floral grandeur with Rose Vault, a scent inspired by the legendary Gucci Flora perfume. Every spray of Rose Vault transports you to a world of beauty and elegance. This perfume encapsulates the essence of Gucci's famous Flora line, taking you to a world of refinement and appeal. Here at Scents n Secrets, we've carefully created a scent that combines your favorite floral perfumes and fruity notes into a delicate symphony of elegance. We drew inspiration for Rose Vault from the legendary Gucci Flora, preserving its essence and reinterpreting it for a new and distinct experience. 
A 50ml bottle of Rose Vault provides a substantial supply of tempting odors to sustain you throughout the day and into the night, delivering an impression of magnificence wherever you go.
Gucci, the prestigious Italian luxury fashion brand, introduced the fragrance series Gucci Flora. This collection finds its inspiration in the brand's classic Flora pattern, originally crafted in 1966 for actress Grace Kelly. The Gucci Flora perfume collection premiered in 2010 and has since become one of the brand's signature scent lines. The fragrances in the collection highlight several aspects of femininity, each reflected in a distinct perfume.
We designed Rose Vault with a heart full of admiration for Gucci Flora in order to capture the spirit of its attractiveness. This scent is a loving tribute to Gucci Flora's beauty and grace, providing the same feeling of refinement to your everyday circumstances.
An exciting olfactory journey begins with an energetic explosion of the top notes of Mandarin Orange, Pear, and the addition of Pepper.
A harmonic scent of the middle notes of delicate Peony, exotic Osmanthus, and timeless Rose brings the beauty of a flourishing garden.
The fragrance navigates into a warm embrace of the base notes of Cedar and Patchouli, with hints of Musk and Leather, creating an enhanced and appealing impression.
Rose Vault, an homage to floral elegance and fruity perfumes pleasure, enables you to experience the artistry of fragrance. Scents n Secrets, your trusted producer of compelling perfumes, now brings you the thrill of the most affordable Gucci Flora perfume price in Pakistan. Go grab your bottle right now!
Inspired By: Gucci Flora.
Genre: French
Eau de Parfum (EDP) - 50ml
Main Accord: Floral, Rose, Fruity.
Notes
Top Notes: Mandarin Orange, Pear, Pepper
Middle Notes: Peony, Osmanthus, Rose
Base Notes: Cedar, Patchouli, Musk, Leather
Performance


Unboxing 
Do you deliver outside Pakistan?
No we don't deliver outside Pakistan as of now!

What are the Delivery charges?
The delivery charges are Rs 200, and on orders above Rs 3,600 delivery is free.

How do I track my order?
You can track your order on Trax and Post-ex track-order with the tracking id you receive in the order shipping confirmation message you receive.

When will my order be delivered?
Delivery Timings:
For Karachi - 2-3 working days.
Outside Karachi - 3-5 working days.