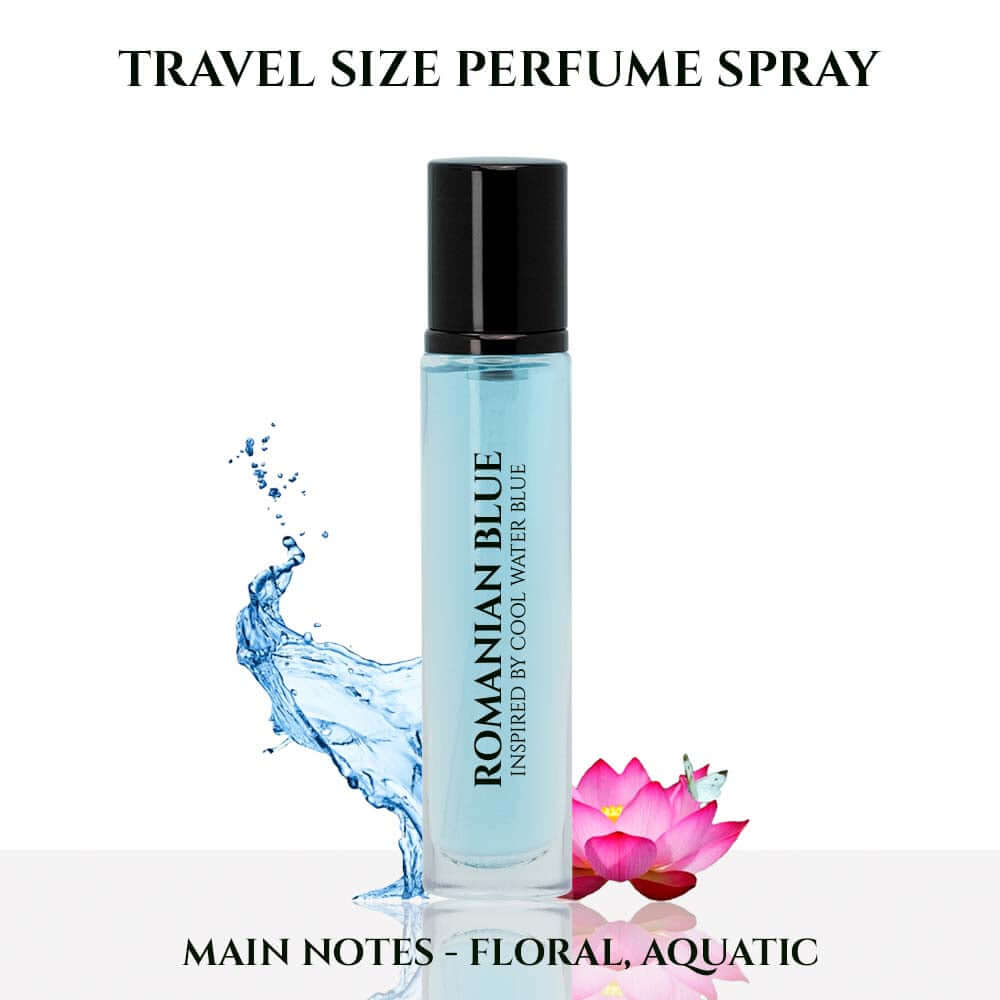 Romanian Blue | Inspired By Davidoff Cool Water
Regular price
Sale price
Rs.1,840.00
/
Fast delivery all over Pakistan
Are you ready to explore an aromatic journey that captures the magical appeal of the French countryside? Look no further than "Romanian Blue," a magnificent scent by Scents and Secrets based on Cool Water perfume, an iconic fragrance from Davidoff. With these floral and fruity perfumes, indulge yourself in a sensation of sophistication and freshness. 
The famous and everlasting men's perfume "Davidoff Cool Water" was introduced in 1988 by the Swiss luxury goods company Davidoff. Pierre Bourdon developed it and instantly positioned itself as a landmark in the world of men's colognes. It is ideal for warm weather and social occasions because of the fragrance's fresh and aquatic aroma, which recalls the ocean and a refreshing breeze.
Romanian Blue pays respect to the awakening and refreshing qualities of its predecessor by gaining inspiration from the legendary Davidoff Cool Water Blue. With its every spray, you may now delight in the magnificent smell of this Cool Water perfume.
Let the top notes of the spicy embrace of Lotus, Lemon, and Melon awaken your senses, while Black Currant and Quince provide an extra dose of flavorful appeal to you. A hint of pineapple stimulates the senses and creates an amazing aromatic experience.
A beautiful floral bouquet of lilies, water lilies, and jasmine dances on your skin while Romanian Blue's heart opens out. Hawthorne, Rose, and Honey are combined with Lotus creating a lovely blossoms symphony, whose delicate sweetness blends in with the velvety softness of Hawthorne providing the perfect essence of Davidoff Cool Water Blue perfume.
Vetiver gives a touch of earthiness to the end, a climax of seductive smells. Peach and Raspberry offer a fruity touch. Together, the notes of vanilla and sandalwood evoke warmth and elegance. Violet Root and Blackberry create a softly memorable fragrance trail, you feel caught in a sophisticated atmosphere.
You may now obtain a perfect representation of this Cool Water perfume that is classy, refined, and completely charming through Scents and Secrets' Romanian Blue, which was inspired by Davidoff Cool Water at a reasonable cool water perfume price in Pakistan. With this floral perfumes, fruity, and fresh composition, you can stimulate your senses and make a lasting impact.
Inspired By: Davidoff Cool Water
Genre: French
Eau de Parfum (EDP) - 50ml
Main Accord: Floral, Fruity, Fresh
Notes
Top Notes: Lotus, Lemon, Melon, Lilly, Black Currant, Quince, Pineapple
Middle Notes: Lilly, Water Lilly, Jasmine, Hawthrone, Rose, Honey, Lotus
Base Notes: Vetiver, Peach, Vanilla, Raspberry, Sandalwood, Violet Root, Blackberry
Performance


Unboxing
Do you deliver outside Pakistan?
No we don't deliver outside Pakistan as of now!

What are the Delivery charges?
The delivery charges are Rs 200, and on orders above Rs 3,600 delivery is free.

How do I track my order?
You can track your order on Trax and Post-ex track-order with the tracking id you receive in the order shipping confirmation message you receive.

When will my order be delivered?
Delivery Timings:
For Karachi - 2-3 working days.
Outside Karachi - 3-5 working days.