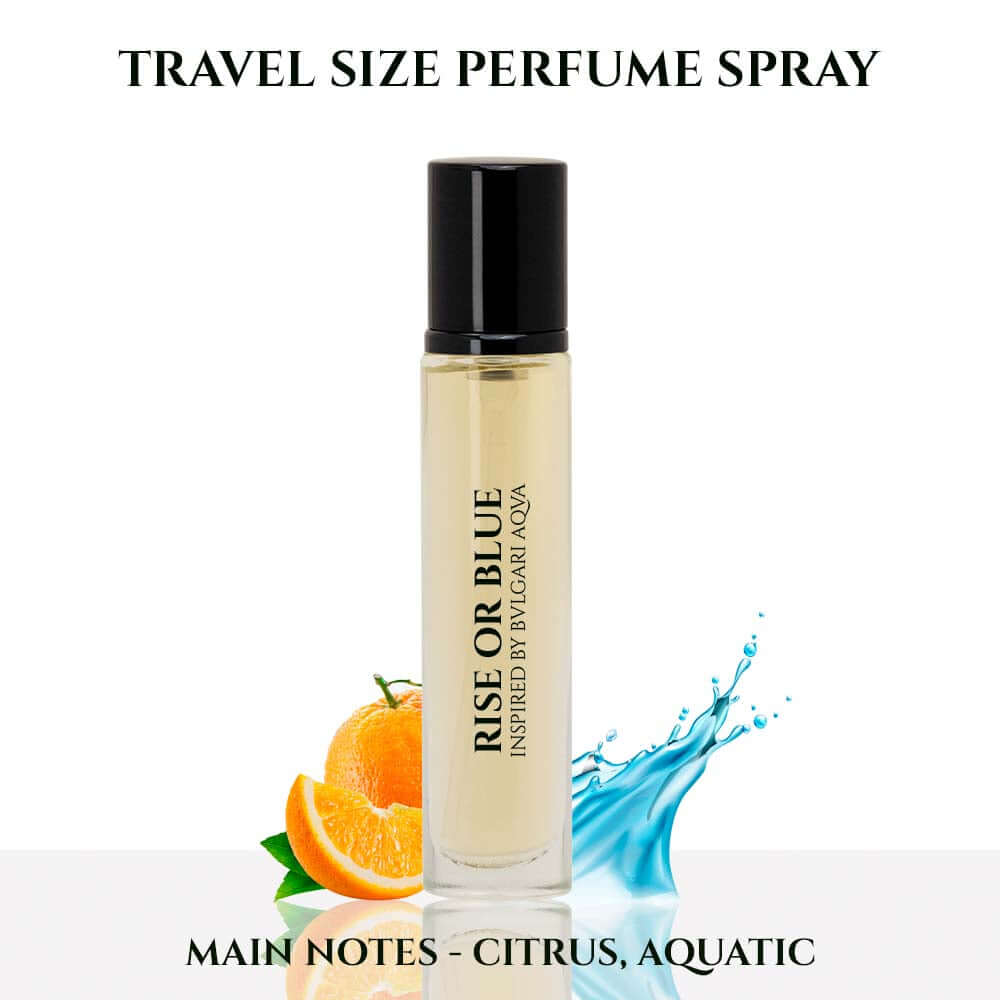 Rise of Blue | Inspired By Bvlgari Aqva
Regular price
Sale price
Rs.1,790.00
/
Fast delivery all over Pakistan
Introducing "Rise of Blue" Inspired By Aqva Bvlgari, an irresistible citrus, aquatics scent that captures the spirit of the deep sea and the calm wind of adventure. Immerse yourself in a marine wonderland with Scents and Secrets that make you feel energized and confident. Rise of Blue is a perfect example of French elegance. It is certain to draw attention and make an impact on people. Embrace the Rise of Blue to enhance your scent game.
The well-known Italian luxury brand Bvlgari (sometimes spelled Bulgari) has developed a collection of scents for males called Bvlgari Aqva. The Aqva Bvlgari collection includes a variety of perfumes with watery undertones that capture the energy and freshness of the ocean. The Bvlgari Aqva line first came out in 2005 with the release of "Aqva Pour Homme," the collection's original and most well-known perfume. Since then, the line has grown to include several flankers and limited editions, each exploring a unique aspect of aquatic perfumes and marine themes.
Rise of Blue takes inspiration from the legendary Bvlgari Aqva, famous for its unmatched aroma and flawless craftsmanship. Its main accords revolve around the peaceful fusion of citrus perfumes and aquatic themes. Experience the zingy embrace of Petitgrain, Orange, and Mandarin in the top notes, creating a feeling of enthusiasm and passion that recalls the sparkle of sun-kissed waves.
As the perfume matures, you'll find yourself wrapped in the middle notes of seaweed, lavender, and cotton flowers. This combination of elements carries you to a beautiful escape at the water's side and exudes a calm freshness like a gentle ocean breeze.
The journey comes to an end with a warm and seductive base where Patchouli, Clary Sage, Amber, Virginia Cedar, and Woodsy Notes linger to create a rich, warm, and welcoming atmosphere. 
With Rise of Blue, Scents and Secrets offers a unique replica version at a reasonable Bvlgari Aqva price in Pakistan. This 50ml Eau de Parfum offers a long-lasting, enchanting sensation that will keep you spellbound the entire day.
Inspired By: Bvlgari Aqva
Genre: French
Eau de Parfum (EDP) - 50ml
Main Accord: Citrus, Aquatic
Notes
Top Notes: Petitgrain, Orange, Mandarin
Middle Notes: Seaweed, Lavender, Cotton Flower
Base Notes: Patchouli, Clary Sage, Amber, Virginia Cedar, Woodsy Notes
Performance
Unboxing 
Do you deliver outside Pakistan?
No we don't deliver outside Pakistan as of now!

What are the Delivery charges?
The delivery charges are Rs 200, and on orders above Rs 3,600 delivery is free.

How do I track my order?
You can track your order on Trax and Post-ex track-order with the tracking id you receive in the order shipping confirmation message you receive.

When will my order be delivered?
Delivery Timings:
For Karachi - 2-3 working days.
Outside Karachi - 3-5 working days.