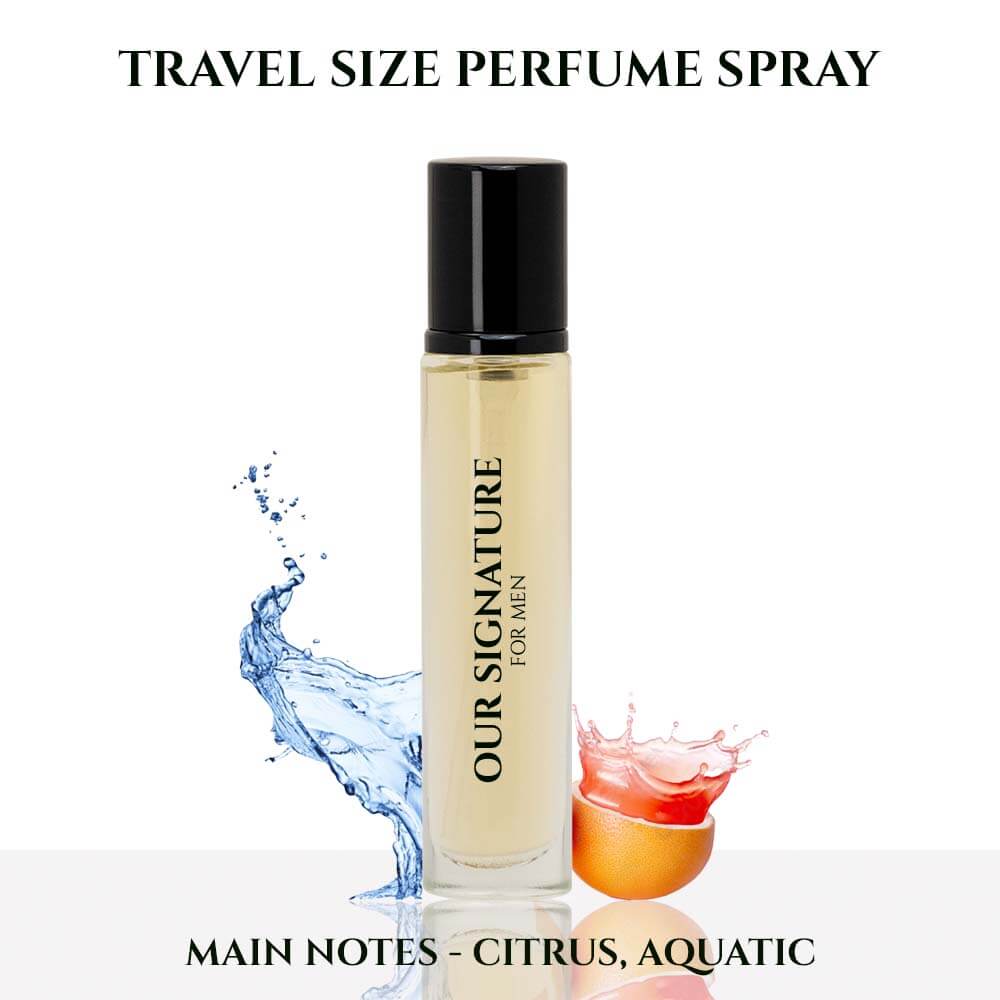 Our Signature Perfume for Men
Regular price
Sale price
Rs.1,920.00
/
Fast delivery all over Pakistan
Presenting our Signature perfume for men, a provocative and prestigious perfume that represents classic style and attractiveness for men. This French Eau de Parfum (EDP) is a 50ml bottle of utter sophistication made from the best components. It cautiously blends a symphony of citrus, aquatic perfumes, and aromatic accords that will make an unforgettable impression all around you wander. Say yes to the magnetism of Scents and Secrets' captivating scent that says a lot about your uniqueness and sense of style. Our Signature perfume for men is made to bring out the best in every guy and leave a memorable impression.
With the top notes of Sea, dive into the energizing embrace of the ocean as zesty Orange and Grapefruit swirl together. These vibrant, lively citrus perfumes and aquatic tones arouse the senses and light up your soul for the adventures waiting for the future.
 With the lovely aromatic perfumes smell of the middle notes i.e. Bay Leaf and the evergreen charm of Jasmine, go deeper into an era of elegance. This signature perfume's heart reveals a captivating combination that strikes the ideal balance between power and delicacy as it matures.
Guaiac Wood, Patchouli, and Ambergris provide a delightful farewell at the end of the journey. These base notes give the fragrance strength and sensuality while also leaving a mysterious trail wherever they are encountered.
One of the best perfumes for men, "Our Signature for Men" is created for the confident modern man and elevates your presence with each spray. Its fragrant blend is made to stay with you throughout the day, guaranteeing you a unique atmosphere from dawn to night. Our brand's this signature perfume perfectly sums up sophistication and grace, making it a perfect match for formal events, date evenings, or even everyday wear when you want to make a statement.
Upgrade your fragrance collection and revamp your signature perfume with our scent because sometimes, the finest scents and secrets are reserved for those who dare to be extraordinary. Go check out more amazing perfumes for men at an affordable price and don't skip the chance to embrace the luxury without going out of your budget.
Genre: French
Eau de Parfum (EDP) - 50ml
Main Accord: Citrus, Aquatic, Aromatic
Notes
Top Notes: Sea Notes, Orange, Grapefruit
Middle Notes: Bay Leaf, Jasmine
Base Notes: Guaiac Wood, Patchouli, Ambergris
Performance
Unboxing Video
Do you deliver outside Pakistan?
No we don't deliver outside Pakistan as of now!

What are the Delivery charges?
The delivery charges are Rs 200, and on orders above Rs 3,600 delivery is free.

How do I track my order?
You can track your order on Trax and Post-ex track-order with the tracking id you receive in the order shipping confirmation message you receive.

When will my order be delivered?
Delivery Timings:
For Karachi - 2-3 working days.
Outside Karachi - 3-5 working days.