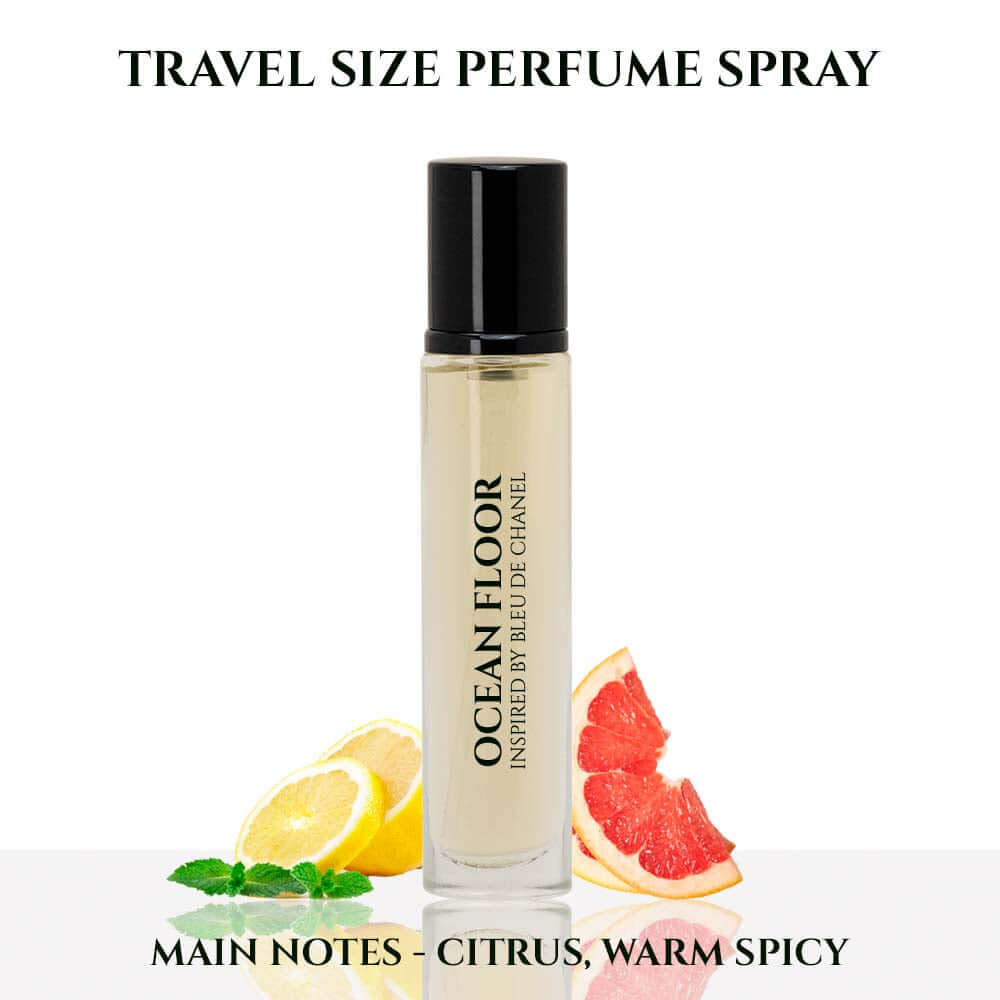 Ocean Floor | Inspired By Bleu De Chanel
Regular price
Sale price
Rs.1,840.00
/
Fast delivery all over Pakistan
Showcasing "Ocean Floor" the extraordinary perfume that takes you on a thrilling adventure into the ocean's depths. Scents and Secrets' Ocean Floor offers a captivating scent that blends the appealing qualities of citrus, and the warmth of woody and spicy perfume. It was influenced by the elegant and versatile scent of Bleu de Chanel. 
The classic Bleu de Chanel, known for its dense and diverse composition, served as an inspiration for Ocean Floor. This scent begins with a blast of vibrant Citrus top notes, an energizing combination of Lemon, Pink Pepper, Grapefruit, and Mint, just like the broad ocean that stretches beyond the horizon, and a calm wind that feels similar to the sea's relaxing caress. 
Ocean Floor, a fragrance created with the utmost attention to detail, opens with a blast of freshness that resonates with the energizing top notes of the citrus present in its source of inspiration. It rapidly stimulates your senses and sets up the environment for an unforgettable experience because of the harmonic combination of tangy lemon, brilliant pink pepper, juicy grapefruit, and cooling mint.
As the perfume expands, the heart of the scent displays a compelling blending of aromatic and woody notes, echoing the sophisticated blend in Bleu de Chanel. Jasmine, ginger, and nutmeg are combined in a delicate balance that gives the composition a sense of refinement, mystery, and mildly spicy. With each breath, this combo pulls people closer because of the atmosphere of confidence and attraction it creates.
Sandalwood, vetiver, white musk, and cedar make up Ocean Floor's base notes, which offer a strong base. These components of woody perfume leave a warm, soothing, and seductive trail on the skin that evokes a sense of classic elegance and sophistication. The woody undertones of Bleu de Chanel give the perfume's scent depth and flavor, providing a fascinating impression. The beautiful 50ml Eau de Parfum (EDP) bottle that holds Ocean Floor reflects the delicacy and appeal of its Inspiration. With the courtesy of Scents and Secrets, Unlock the allure of timeless fragrance, and get to know an irresistible Bleu de Chanel price in Pakistan.
Inspired By: Bleu De Chanel
Genre: French
Eau de Parfum (EDP) - 50ml
Main Accord: Citrus, Woody, Warm Spicy
Notes
Top Notes: Lemon, Pink Pepper, Grapefruit, Mint
Middle Notes: Ginger, Nutmeg, Jasmine
Base Notes: Sandalwood, Vetiver, White Musk, Cedar
Performance
Unboxing Video
Do you deliver outside Pakistan?
No we don't deliver outside Pakistan as of now!

What are the Delivery charges?
The delivery charges are Rs 200, and on orders above Rs 3,600 delivery is free.

How do I track my order?
You can track your order on Trax and Post-ex track-order with the tracking id you receive in the order shipping confirmation message you receive.

When will my order be delivered?
Delivery Timings:
For Karachi - 2-3 working days.
Outside Karachi - 3-5 working days.