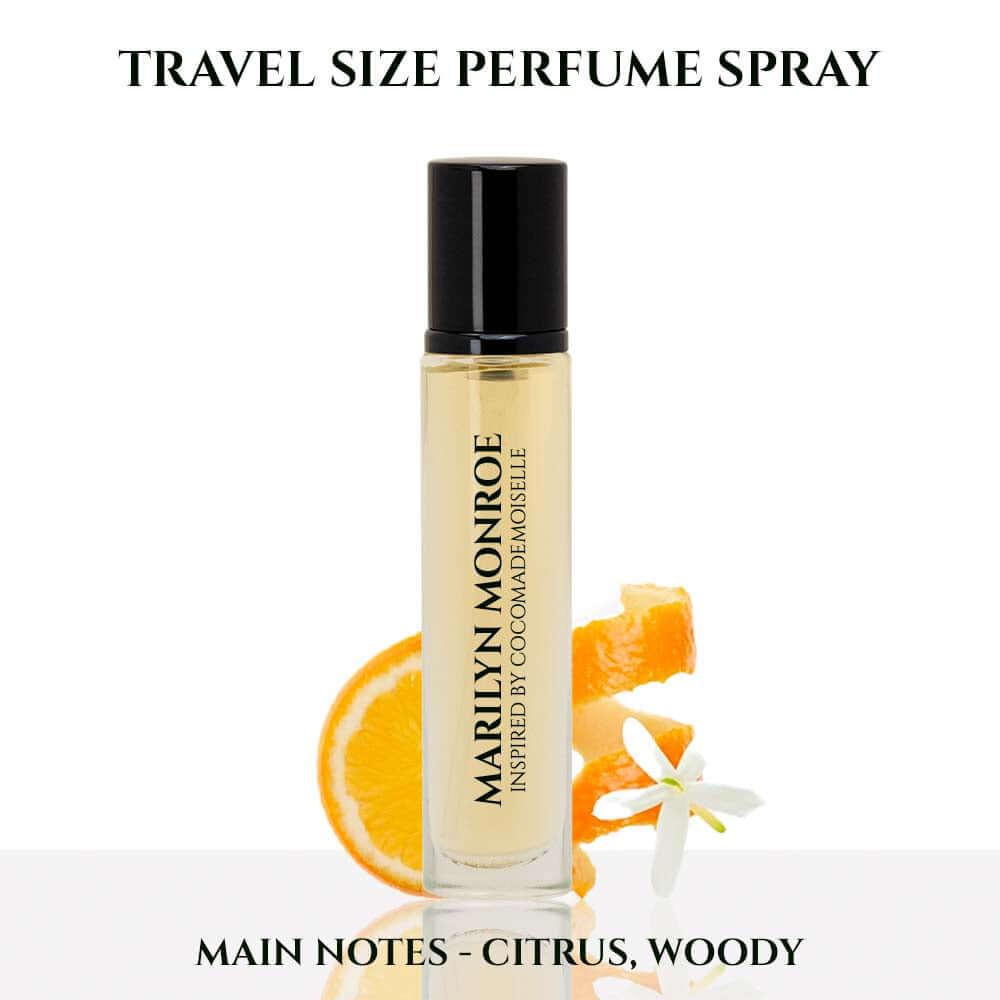 Marilyn Monroe | Inspired By Chanel Coco Mademoiselle
Regular price
Sale price
Rs.2,190.00
/
Fast delivery all over Pakistan
Marilyn Monroe is a fragrance encouraged by the legendary Hollywood diva that awakes the soul of ageless beauty and charm. This Eau de Parfum (EDP) by Scents and Secrets is a masterpiece that combines the glamour of this Chanel perfume with the magic of Marilyn Monroe's charming personality.
Chanel Coco Mademoiselle is the finest odor that epitomizes feminity, elegance, and sophistication. It is applause to the personality of a contemporary young lady who enfolds her freedom and exhibits confidence, crafted by the famed fashion house Chanel.
This Chanel perfume was created by well-known perfumer Jacques Polge and introduced in 2001. This wonderful perfume belongs to the oriental fragrance family, pairing floral and fruity notes with warm, sensual accords. It finds the right blend between traditional elegance and modern attractiveness, making it a favorite choice among women of all ages.
The top notes of bergamot, orange blossom, mandarin, and orange burst forth with a tangy and smashing citrus perfume combination, just like Marilyn Monroe's attractive personality. This pleasant start sets an atmosphere for an attractive and enjoyable fragrant journey that brings out the essence of a sun-kissed summer day.
The heart notes of ylang-ylang, rose, jasmine, and mimosa bloom as the perfume grows, unveiling a delicate and romantic floral bouquet. These lovely blooms provide a touch of softness and elegance, reflective of Marilyn Monroe, the legendary film diva.
The warm and sensational base notes of vetiver, patchouli, vanilla, tonka bean, and white musk create a mesmerizing combination of woody perfume notes. These rich and soothing notes give depth and elegance, a lingering impression in the air.
Scents and Secrets offer this Eau de Parfum (EDP) in a stylish 50ml bottle, ideal for enjoying luxury on a daily basis. Immerse yourself in an orchestra of citrus and woody perfume notes that swirl on your skin, producing a mesmerizing atmosphere that will remain in the mind of everyone around. at Scents and Secrets, we believe that every woman has the right to embrace her inner diva. You can radiate confidence, grace, and a touch of Hollywood glamour with our Marilyn Monroe | Inspired By Chanel Coco Mademoiselle.
Inspired By: Chanel Coco Mademoiselle
Genre: French
Eau de Parfum (EDP) - 50ml
Main Accord: Citrus, Woody
Notes
Top Notes: Bergamot, Orange Blossom, Mandarin, Orange
Middle Notes: Ylang-Ylang, Rose, Jasmine, Mimosa
Base Notes: Vetiver, Patchouli, Vanilla, Tonka Bean, White Musk
Performance
Unboxing Video
Do you deliver outside Pakistan?
No we don't deliver outside Pakistan as of now!

What are the Delivery charges?
The delivery charges are Rs 200, and on orders above Rs 3,600 delivery is free.

How do I track my order?
You can track your order on Trax and Post-ex track-order with the tracking id you receive in the order shipping confirmation message you receive.

When will my order be delivered?
Delivery Timings:
For Karachi - 2-3 working days.
Outside Karachi - 3-5 working days.