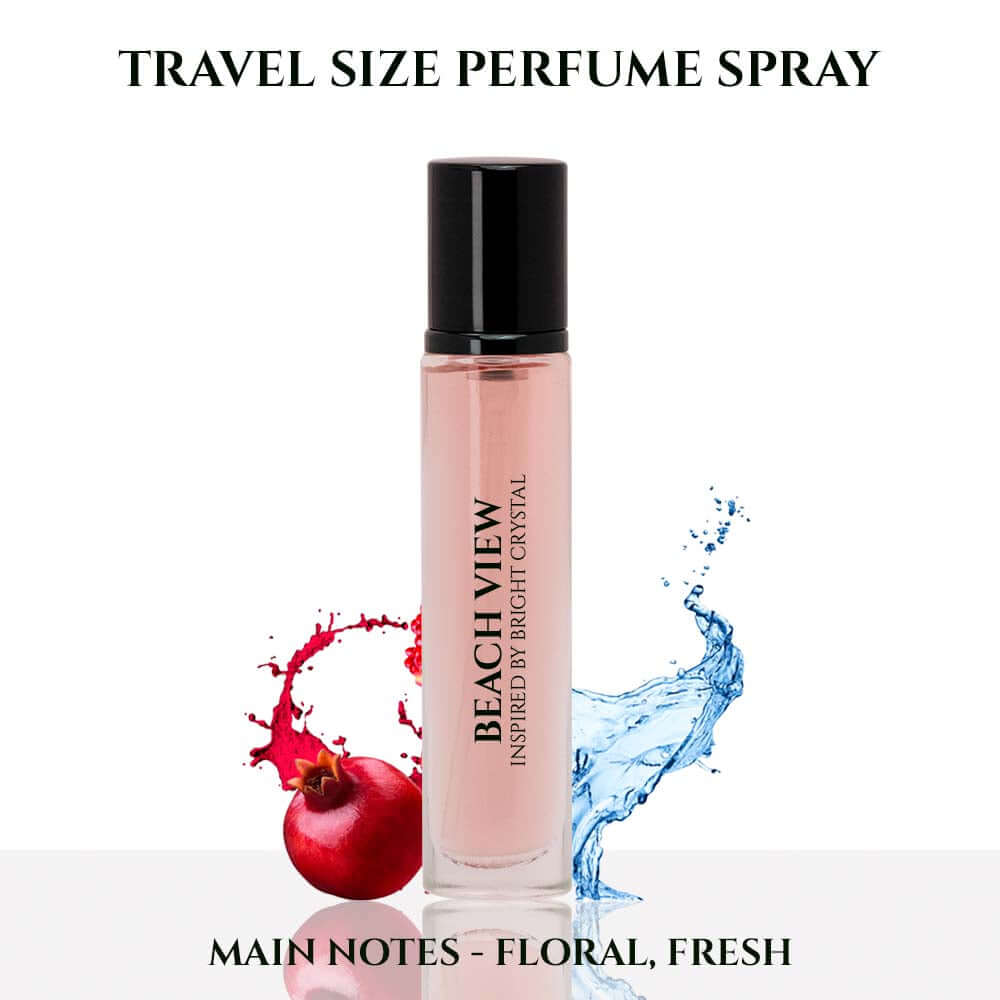 Beach View | Inspired By Versace Bright Crystal
Regular price
Sale price
Rs.1,840.00
/
Fast delivery all over Pakistan
With Scents and Secrets' Beach View | Inspired By Bright perfume, you'll reach the fascinating essence at an unbeatable Versace Bright Crystal price in Pakistan. Wander around in an aromatic wonderland where the seduction of floral odors and French charm merge. Embrace the lively and energizing spirit of  Bright Crystal perfume captured in this Eau de Parfum, offered in an exquisite 50ml bottle. Make our refreshing scent your signature fragrance and let it enhance your presence wherever you go. Let this scent complement your style and personality, whether for a special occasion, a date night, or a relaxed day out.
The popular women's scent Versace Bright Crystal is produced by the famous Italian fashion company Versace. This bright crystal perfume first came out in 2006, and owing to its enticing and sophisticated aroma, it has since attracted an enormous fanbase. This scent is categorized as floral fruity. Our scent pays tribute to this honored masterpiece by capturing inspiration from the famous Versace Bright Crystal. Experience the same delighted feelings and bubbly appeal that Versace lovers admire, now available in Pakistan.
Get the Beach View to enchant you with its captivating Top Notes of Water, Pomegranate, and Yuzu. You'll feel refreshed and regenerated as the energizing water notes blend with the tart sweetness of pomegranate and yuzu.
Breathe in the delicate hearts of Lotus, Magnolia, and Peony as the perfume grows. Surrender to the temptation of blossoming flowers as the smell fills your senses with a soft, seductive floral symphony.
The fragrance's base notes of Amber, Musk, and Mahogany serve as its foundation and produce a warm but elegant impression. Wrap yourself in the soothing hug of amber and musk, adding a hint of intimacy with the classy touch of mahogany.
Imagine taking an enjoyable walk along an unspoiled beach as a soft ocean breeze touches your skin. With each spray of our scent, which is a depiction of the renowned Versace Bright Crystal, you'll feel refreshed and energized as it wonderfully illustrates this peaceful moment. The expert perfumers of Scents and Secrets carefully create it, guaranteeing an aroma that stays in the air and remains in memories.
Inspired By: Versace Bright Crystal
Genre: French
Eau de Parfum (EDP) – 50ml
Main Accord: Floral, Fresh
Notes
Top Notes: Water Notes, Pomegranate, Yuzu
Middle Notes: Lotus, Magnolia, Peony
Base Notes: Amber, Musk, Mahogany
Perfomance

Unboxing
Do you deliver outside Pakistan?
No we don't deliver outside Pakistan as of now!

What are the Delivery charges?
The delivery charges are Rs 200, and on orders above Rs 3,600 delivery is free.

How do I track my order?
You can track your order on Trax and Post-ex track-order with the tracking id you receive in the order shipping confirmation message you receive.

When will my order be delivered?
Delivery Timings:
For Karachi - 2-3 working days.
Outside Karachi - 3-5 working days.