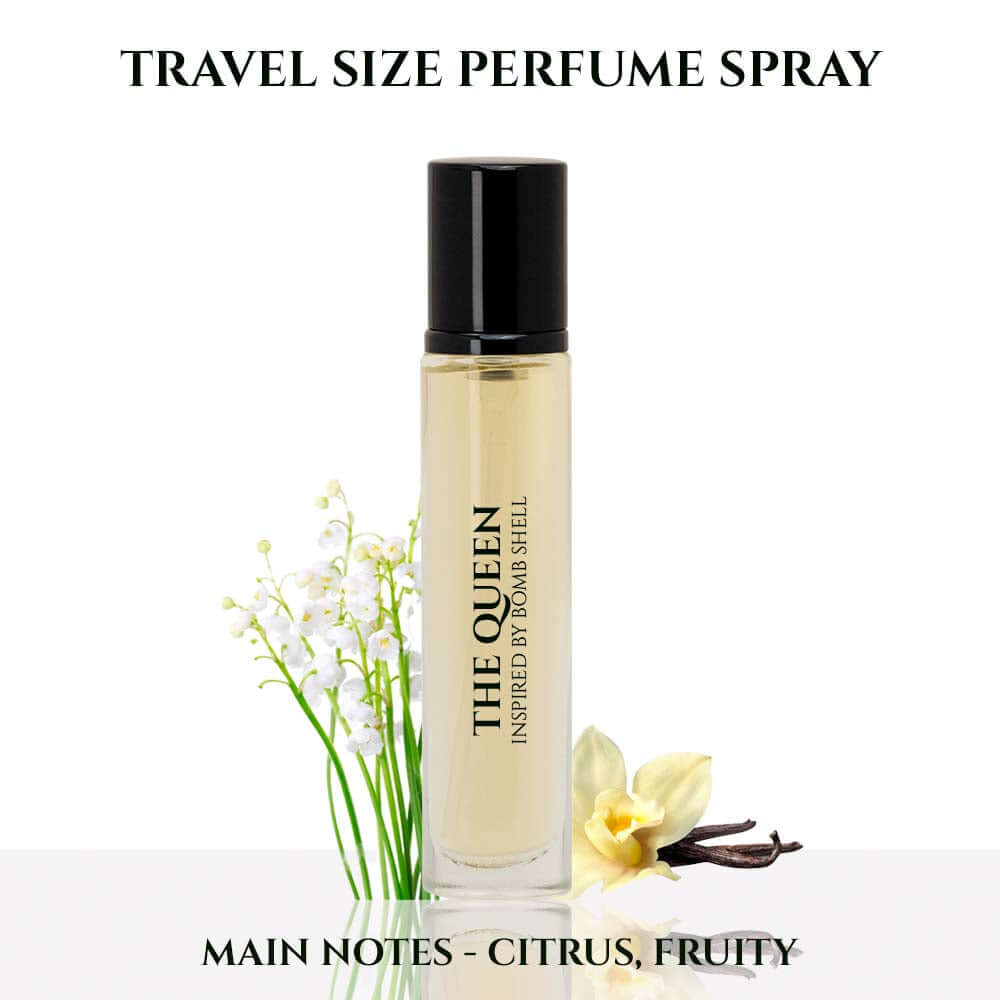 The Queen | Inspired By Victoria Secret Bombshell
Regular price
Sale price
Rs.1,790.00
/
Fast delivery all over Pakistan
Get prepared to embrace your internal style with Scents n Secrets' captivating scent, The Queen. Made to fascinate and motivated by the famous Victoria Secret Bombshell, this aroma could be a true treasure that will make you feel like royalty. It's your key to confidence and appeal, all in one splash. The Queen perfume is a celebration of everything fruity, sweet perfumes, and infused with citrus – a perfect work of art that leaves an eternal impression.
Victoria Secret Bombshell, a famous fragrance brought to life by the American lingerie and beauty retailer Victoria's Secret, has been captivating hearts since its launch in 2010. It quickly got to be a trademark fragrance of the brand and settled inside Victoria's Secret's comprehensive range of fragrances and body care delights. Bombshell perfume reveals a fruity floral scent, radiating with dynamic quality, vitality, and charm. It harmonizes notes of citrus perfumes, fruits, blooms, and a hint of warmth. 
Set out on a journey of immortal sophistication with our Eau de Parfum, The Queen. We've bottled the essence of Victoria Secret Bombshell, famous for its powerful appeal. It's the secret to your confident walk and charming smile. 
Let your senses enjoy a burst of fruity perfumes charm, with the energy of passionfruit, strawberries, grapefruit, and pineapple. The tangerine includes a tangy twist that's totally overwhelming. As the scent unfolds, the heart notes bring you into a world of delicate appeal. Vanilla orchid, peony, red berries, jasmine, and lily intertwine to form an ensemble of sophistication. The base notes of "The Queen" stay the fragrance with an air of regal confidence. Oakmoss, woody notes, and musk mix harmoniously, leaving a subtle, charming trail in your wake.
At Scents n Secrets, we bring you the extravagance of exquisite fragrances at a division of the cost. Encounter the sensation of wearing Victoria Secret Bombshell without the heavy price tag. Get the soul of a Victoria Secret Bombshell price in Pakistan at the most reasonable rates, embrace the fruity-sweet charm, and leave your mark with The Queen. Find it only at Scents n Secrets. Elevate your collection today with this captivating creation and let your fragrance rule. Place your order now, and let the regal smell of "The Queen" motivate each moment of your day.
Genre: French
Eau de Parfum (EDP) - 50ml
Main Accord: Fruity, Sweet, Citrus
Notes
Top Notes: Passionfruit, Strawberry, Grapefruit, Pineapple, Tangerine
Middle Notes: Vanilla Orchid, Peony, Red Berries, Jasmine, Lilly
Base Notes: Oak Moss, Woody Notes, Musk
Performance
Unboxing Video


Do you deliver outside Pakistan?
No we don't deliver outside Pakistan as of now!

What are the Delivery charges?
The delivery charges are Rs 200, and on orders above Rs 3,600 delivery is free.

How do I track my order?
You can track your order on Trax and Post-ex track-order with the tracking id you receive in the order shipping confirmation message you receive.

When will my order be delivered?
Delivery Timings:
For Karachi - 2-3 working days.
Outside Karachi - 3-5 working days.