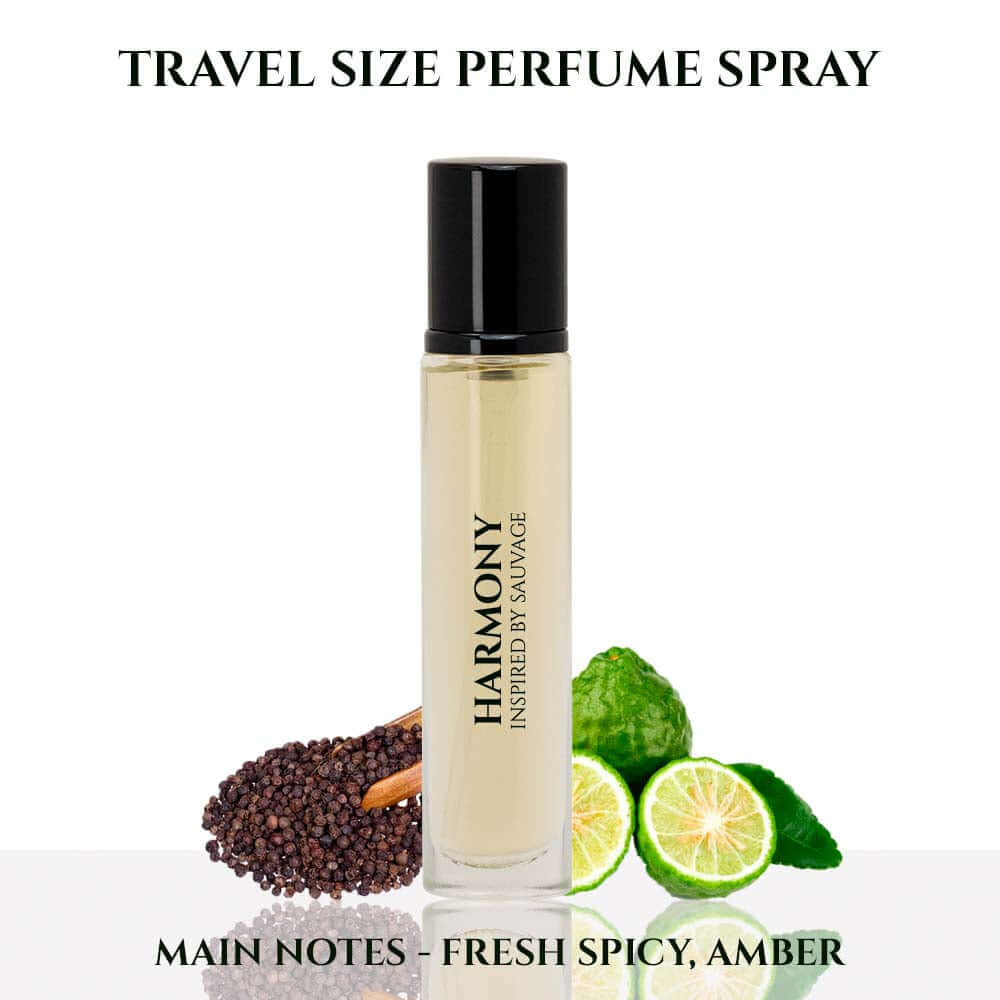 The Harmony | Inspired by Sauvage Dior
Regular price
Sale price
Rs.1,790.00
/
Fast delivery all over Pakistan
Get ready to set out on a fragrant journey that captures modernity and adventure in a single bottle. The Harmony by Scents n Secrets, motivated by Sauvage Dior, isn't just a fragrance; it's an encounter, a journey through fragrances that resonate with power and appeal. It's carefully made to reflect the class of Sauvage Dior.
Sauvage Dior, a famous men's perfume from the luxury French fashion house Christian Dior, was presented in 2015 and rapidly accomplished remarkable popularity, cementing its position as one of the brand's most iconic fragrances. Sauvage perfume boasts show-off a flexible and striking fragrance profile that offers a wide audience. Frequently portrayed as fresh, spicy, and versatile, it owns a clean and sharp opening followed by a warm and quietly smoky undertone. Our creation, inspired by Sauvage Dior, magnificently combines the wild soul of the original with an interesting twist of spicy charm. It's a tribute to the modern man – confident and audacious.
Infused with the freshness of fiery pepper and the stimulating charm of Calabrian bergamot, our perfume sets the stage for a distinct olfactory experience – the spark that lights the endeavor.
As the fragrance evolves, an orchestra of notes unfolds. Encounter the rich and natural embrace of patchouli laced with the warmth of elemi. Lavender and geranium provide a floral refinement, whereas pink pepper and vetiver infuse a hint of spice and depth.
The journey comes to an end on a joyful base. The woodsy elegance of cedar mixes harmoniously with the extraordinary appeal of ambroxan, setting up a foundation of strength. Labdanum contributes a sweetness, leaving behind a captivating path that waits wherever you wander.
At Scents n Secrets, we're committed to the enchantment of fragrances. Our "The Harmony" perfume epitomizes this dedication. It encapsulates the charm of Sauvage Dior price in Pakistan while including our own secret touch, resulting in a fragrance that's both recognizable and captivatingly unique. Lift your senses with the genuine substance accessible at an overwhelming Sauvage perfume price in Pakistan, only from Scents n Secrets. Our faithful commitment to quality guarantees you get an extraordinary fragrance that mirrors the modernity of Sauvage perfume, without compromise.
Genre: French
Eau de Parfum (EDP) - 50ml
Main Accord: Fresh Spicy, Amber
Notes
Top Notes: Pepper, Calabrian Bergamot
Middle Notes: Patchouli, Elemi, Lavender, Geranium, Pink Pepper, Vetiver
Base Notes: Cedar, Amrboxan, Labdanum
Performance
Unboxing Video
Do you deliver outside Pakistan?
No we don't deliver outside Pakistan as of now!

What are the Delivery charges?
The delivery charges are Rs 200, and on orders above Rs 3,600 delivery is free.

How do I track my order?
You can track your order on Trax and Post-ex track-order with the tracking id you receive in the order shipping confirmation message you receive.

When will my order be delivered?
Delivery Timings:
For Karachi - 2-3 working days.
Outside Karachi - 3-5 working days.