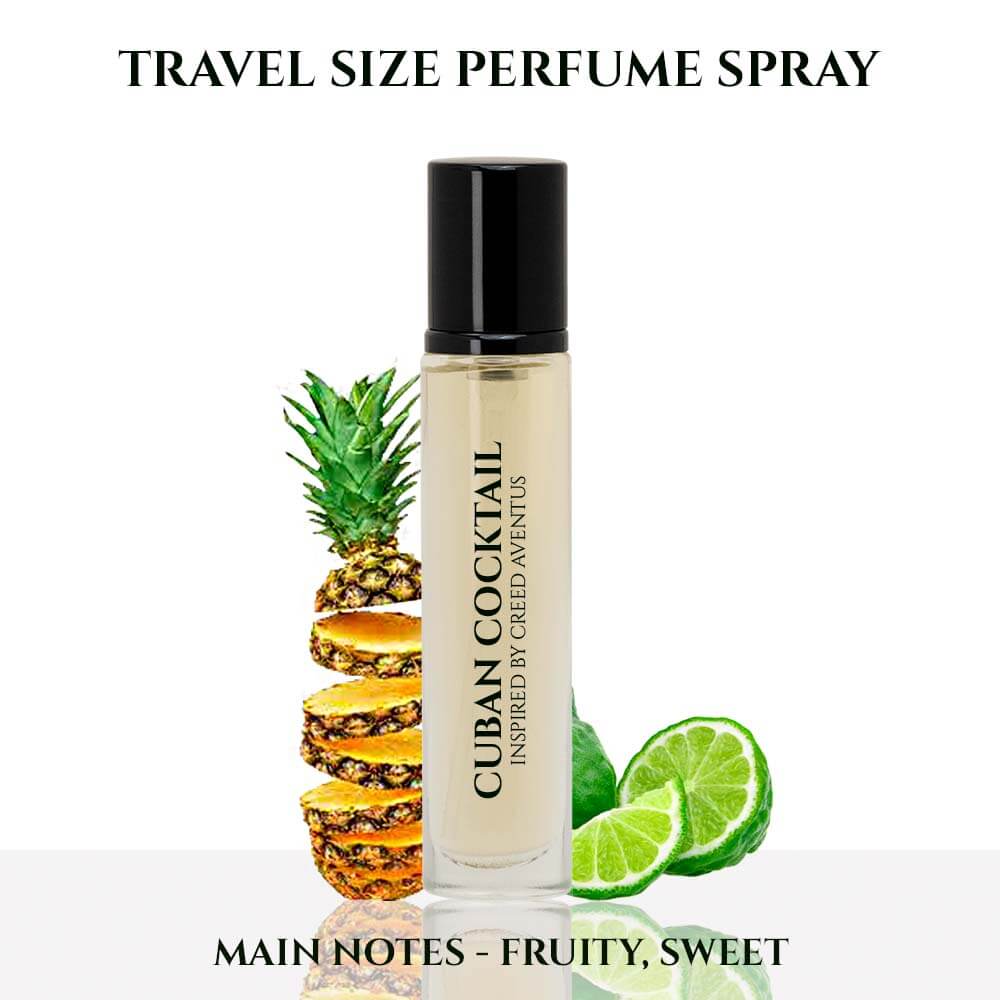 Cuban Cocktail | Inspired By Creed Aventus
Regular price
Sale price
Rs.1,790.00
/
Fast delivery all over Pakistan
The Cuban Cocktail is a mesmerizing scent that blends the essence of Creed Aventus with an original spin. Let us accompany you to the colorful streets of Havana, where the rich and appealing smell of this beautiful perfume will excite your senses and leave an everlasting impression.
Creed Aventus, a renowned eau de parfum from the reputed Paris-based perfume brand Creed, has fascinated fragrance lovers since its introduction in September 2010. It is a fruity chypre scent created to honor Creed's magnificent 250th anniversary. It has a lovely combination of citrus-based top notes with enticing base notes like oak moss and musk, giving it an enhanced character.
At Scents n Secrets, we took inspiration from the classic Creed Aventus and created our own masterpiece, the Cuban Cocktail. This French-inspired Eau de Parfum (EDP) comes in a handy 50ml bottle, making it ideal for on-the-go fulfillment. The Cuban Cocktail preserves the spirit of the original Creed Aventus while infusing it with a sweet perfumes undertone, producing an incredibly fascinating scent.
The Cuban Cocktail is an experience, not simply an odor. You endure an aromatic journey with each spritz, experiencing new dimensions and details. Like the original Aventus Creed, our scent asks you to take your time and thoroughly appreciate the art of fragrance. Each note slowly reveals its hidden secrets and fascinates you with its charm.
Grab the extraordinary at a price that's reasonable. The Cuban Cocktail inspired by Creed Aventus price in Pakistan is offered at an appealing range, allowing you to taste luxury without breaking your wallet. Accept the essence of Creed's masterpiece and let the Cuban Cocktail become your describing fragrance. Indulge in the magic of this perfume by Scents and Secrets and uncover the woody perfume's hidden enigmas. Let its sweet and fruity perfume charm bring you to a world of class and sophistication.
Inspired By: Creed Aventus 
Genre: French
Eau de Parfum (EDP) - 50ml
Main Accord: Fruity, Woody, Sweet
Notes
Top Notes: Bergamot, Black Currant, Pineapple, Apple
Middle Notes: Birch, Patchouli, Rose, Moroccan Jasmine
Base Notes: Musk, Oak Moss, Vanilla
Performance
Unboxing Video
Do you deliver outside Pakistan?
No we don't deliver outside Pakistan as of now!

What are the Delivery charges?
The delivery charges are Rs 200, and on orders above Rs 3,600 delivery is free.

How do I track my order?
You can track your order on Trax and Post-ex track-order with the tracking id you receive in the order shipping confirmation message you receive.

When will my order be delivered?
Delivery Timings:
For Karachi - 2-3 working days.
Outside Karachi - 3-5 working days.